WORKWEAR WEDNESDAY
posted June 25, 2014 by Monique Lund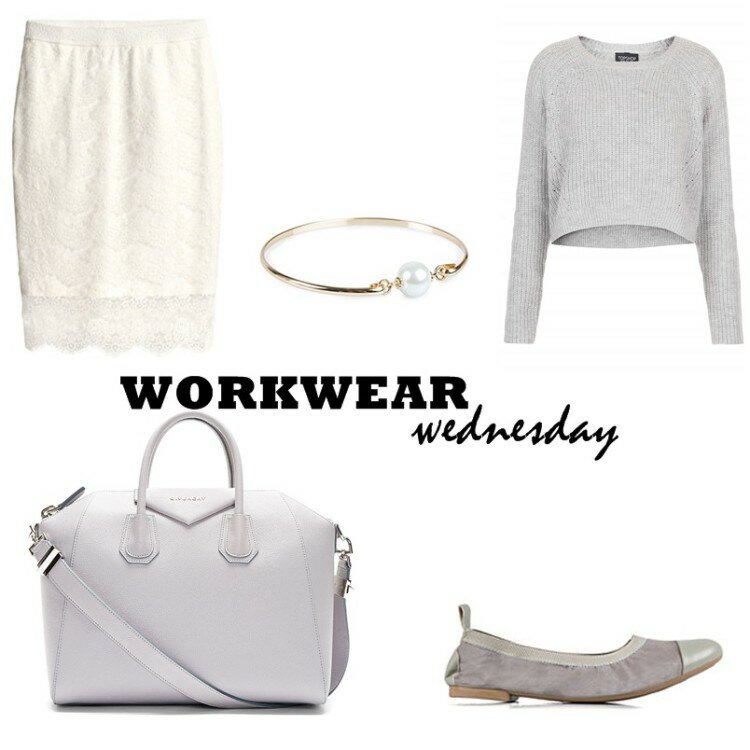 // skirt – hm, bracelet – nelly, knit – topshop, bag – givenchy, ballerinas – i love my ballerinas//
Så, jeg fikk en liten utfordring av en leser – love it! Og den er som følger: et behagelig jobbantrekk i størrelse XL, til en travel dame som ikke ruver så høyt over bakken som som alltid er på farten. Dermed helst lave sko, ikke blazer og med en veske som rommer litt.
Grunnen til at hun ikke ønsket blazer, var fordi hun ble så varm, og jeg ser at denne genseren kanskje gjør sammen "nytten" som en blazer. Men – og det er et stort men – dette antrekket kan nemlig kombineres og varieres til det uendelige. Tror du meg ikke? Bytt til pumps og en fin bluse, og du har et antrekk som er klar for en finere middag. Eller hva med en t-skjorte og et par sneakers for et cafébesøk? Eller en topp og cardigan, så er man klar for både varmt og kaldt!
Dette skjørtet er et high waist skjørt, og kanskje det er noe utenfor komfort sonen for noen, da det både er hvitt, det er blonder og det er tettsittende. Selv elsker jeg former og et high waist skjørt som dette med den riktige lengden er utrolig fint for å fremheve midjen – selv om du kanskje ikke helt føler for det. Men – mote er til for å lekes litt med, og det synes jeg så absolutt at man skal tørre å gjøre!
Og når det kommer til vesken – selv om den er på salg, er det godt mer enn mange er villige til å bruke på en veske. Den er så fin at jeg bare måtte ha den med, men om du vil ha en budsjettvariant, synes jeg denne er vel så fin!
//
So, I was challenged by one of my readers, and I absolutely love it! And the challenge is as follows: a comfy workwear for a size XL for a busy woman that isn't that tall, and who is always on the run. Preferably flat shoes, no blazer and a bag that can contain all the womens must haves! 
The reason she didn't want a blazer, was because she tends to get a little warm, and I realize that this knit sweater might not do her any favor on that matter. However, this outfit is super easy to transform to almost anything. Don't believe me? How about adding a gorgeous blouse and a couple of heels, and you are ready for a fancy dinner. Or what about a simple t-shirt and some sneakers for a cosy cafe date with friends? Or – a top and a cardigan, and you're prepared for any temperature. 
This skirt is a high waist skirt, and perhaps not within the comfort zone for some as it is both white, laced texture and fitted. Personally, I love curves and high waist with the right length is so curve friendly and actually accentuate the body shape – in a positive way. Fashion is for fun, and I think you should try this out, have fun with it and maybe you'll like it! 
And then – the bag. Not the most budget friendly, but oh so gorgeous, and I had to include it in the collage. However, I found a budget friendly one I love, so take a look here if you are looking for a similar!
Affiliate links
---
---
Anniken
Jeg må bare først si at jeg liker stilen din veldig godt og syns det er kjempe flott med inspirasjon til jobbantrekk!Men jeg lurte på om du har tips til noen gode dressbukser som sitter fint på?Eller hva slags bukser bruker du mest på jobb?
---
---