TWO YEARS AGO
posted June 24, 2014 by Monique Lund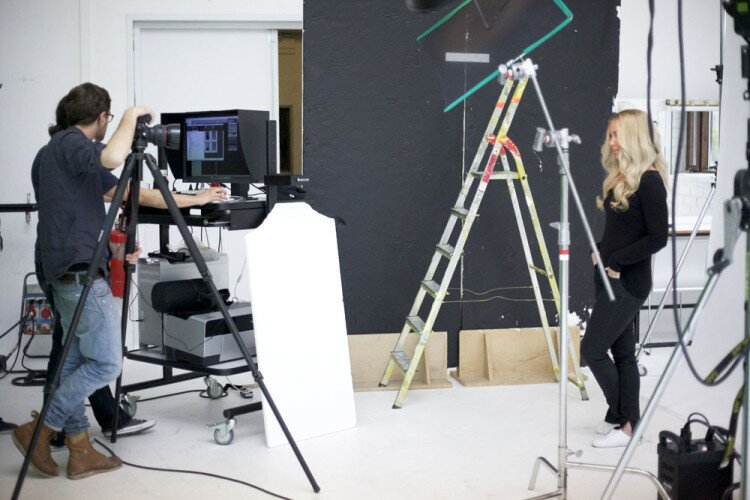 To år siden. En smule nervøs. Ikke fordi det stod en hel haug med mennesker bak kamera, og jeg (noe urutinert) foran. Eller fordi jeg ble littebittegrann starstruck av nydelige Frida Fahrman. Fordi jeg var nervøs om øynene mine kom til å avsløre flere måneder med våken netter. Eller fordi jeg plutselig hoppet uti ukjent farvann. Nei, det er utfordringer jeg elsker å kaste meg uti. Men å reise bort fra en liten gutt for første gang, var både skremmende, spennende og litt befriende – alt på en gang. Å bli mamma er virkelig en reise, både gjennom livet og i seg selv. Spekteret av følelser man kjenner på i ulike faser er enorm, og jeg kan med hånden på hjertet si at jeg er enda tryggere på meg selv i dag…
Det er rart hvordan et bilde av meg foran kamera i en setting som i utgangspunktet er overfladisk, kan ende opp i så mye babling. Haha, men for en dag og for en opplevelse! Du kan lese mer her om du er nysgjerrig!
//
Two years ago. A little nervous. Not because of the camera crew behind the lens, and me in focus. Not because I was kind of starstruck when I met sweet Frida. If my eyes would reveal that I hadn't slept a whole night for several months. Or because I suddenly found myself doing something I've never done before. No, those were challenges, and we all know I love those. But travelling alone for the first time, away from my little guy, was scary, exciting and kind of liberating – all at once. Becoming a mother is truly a journey, in life and also withing yourself. The diversity of emotions youre going through is so vast, and I can honestly say that I'm even more confident in myself today because of that. 
Funny how a picture of yourself, standing in front of a camera in a superficial setting, can end up in such rambling. Haha, but what a day and what an experience! You can read more about it here. 
---
---
hippiehippiemilkshake.blogspot.com
så nydelig innlegg…
---
---