CRISPY WHITE LIFESAVER
posted June 24, 2014 by Monique Lund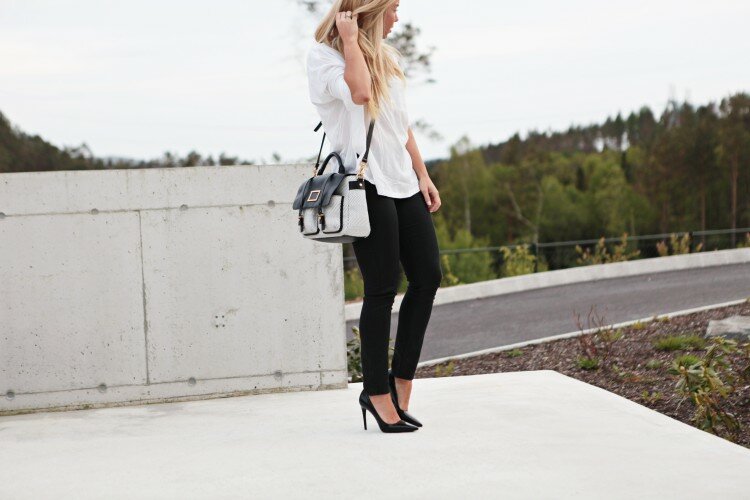 //heels – prada, jeans and shirt – hm, bag – marc jacobs//
Den klassiske komboen hvit skjorte og sorte jeans skuffer aldri. Jeg tror jeg har ørten forskjellige varianter av hvite skjorter, men kan tydeligvis aldri få nok av dem! Denne er i silkeblanding og herlig oversized, som gjør den så utrolig komfortabel og god å gå med. Ser du meg i denne kombinasjonen, har jeg mest sannsynlig stått i garderoben på morgenen og ikke helt visst hva jeg skal ta på meg. Og så må jeg innrømme at den hjelper litt ekstra på grå dager – en crispy hvit skjorte kan lyse opp enhver dag spør du meg.
Nå står en lang arbeidsdag for tur, før jeg endelig skal få tatt røntgen av foten. Det er jo godt over en måned siden jeg ble skadet, og selv om jeg har haltet rundt som en tulling, har det gått ganske greit. Helt frem til i helga. Da glemte jeg meg litt, belastet den litt for mye og fikk supervondt i foten igjen. Typisk meg. Og veldig typisk meg å la være å gå på legevakten. Hadde jeg gjort det den dagen det skjedde, så ville jeg for lengst visst hva som faktisk er skjedd med foten. Noen som sa sta?
//
The classic combo white shirt and black jeans never fails. I have several of both of them and I just can't get enough. This one is made of a silkblend and is so comfy and amazing. If you spot me in this combo, it is more likely that I had no clue on what to wear that morning. And I have to admit that the crispy whites brights up a ordinary day! 
Today I'm going to get an x-ray of my foot. and that's about time. It's been over a month since I injured my foot, and eventhough I've been limping around like an idiot, everything has gone pretty well. All up until this weekend. I kind of forgot, and put too much weight on my foot too soon. Typical me. And so typical of me not going to the emergency care when I first hurt my foot. Then I would've known what kind of injury it actually is. Did I hear someone said stubborn? 
---
---